OEM Custom Magsafe IPhone Magnetic Car Mount Car Air Vent Phone Holder
A small magnetic car holder on the ventilation grille
Compact size – The small size means that the gadget does not reduce visibility and does not cover the air vent.
Durable and durable – Accessory made of high-quality materials.
Secure magnetic grip – 16 strong magnets ensure a firm grip of the equipment, without fear of moving it.
One hand is enough – The whole thing can be easily operated with one hand. Fast and safe.
Large adjustment possibilities – 360-degree rotation allows you to easily adjust the gadget to your needs and set the optimal viewing angle.
No scratching – The gadget's jaws are lined with flexible TPU , which prevents the airflow from scratching.
Details about OEM Custom Magsafe IPhone Magnetic Car Mount Car Air Vent Phone Holder
New iPhone Magnetic Car Mount-Thoughtful And Stable Design
Innovative Anti-Fall and Anti-Slip magnetic cell phone car mount securely hold your smartphone in place so you don't have to worry about your phone immediately falling: powerful magnets keep your phone safe and off the ground.
Easy To Mount
Our magnetic car air vent phone holder is easy to mount with a simple snap.
Designed For New iPhones
The New iPhone magnetic car mount is only just for your Apple iPhone 12 & 13 Series, No need for any magnetic plate. The phone case must be a magnetic MagSafe case, or just take off your case to hold your phone if the case is no magnetic MagSafe case.
360° Versatile View
360° Highly flexible rotation iPhone 12 magnetic car mount provides infinite viewing angles. Position your phone at the perfect angle to enjoy a more relaxed and safer drive. The base of the magnetic cell phone car mount remains fixed into the air vent of your car and does not move, no matter how much swiveling or rotation you do.
Reliable Car Air Vent Phone Holder
Twist-lock design is a unique feature of this car mount. Insert the mount into the air vent, lock it in and it won't fall out! Our car mount comes with powerful magnets that ensure your smartphone stays in place even during emergency breaks. Our car mount grips securely and has a strong magnetic hold that supports your cellphone even when you drive on a bumpy road.
Two-Step Easy Installation
Magnetic design, which means no cradles, brackets, clamps or gel, and sticky residue. Our iPhone 12 magnetic car mount is very easy to set up: just place iPhone 12 / iPhone 12 Pro / iPhone 12 Pro Max / iPhone 12 Mini on this car mount directly or with a magnetic phone case on, and it will snap on. it just supports the original Magsafe cases, do not support others!
Convenient Magnetic Cell Phone Car Mount
Cradle-less magnetic cell phone car mounts with quick release let you grab your phone and go: easy to place on or remove your smartphone from the iPhone 12 magnetic car mount.
Specifications:
Color: Black
Dimensions:63mm*78mm
Package Size: 92*40*145mm
Net Weight: 74g
How to use:
1. Clean the magnetic cell phone car mount surface
2. Install the magnetic cell phone car mount in your air vent
3. Place your iPhone 12 on the magnetic cell phone car mount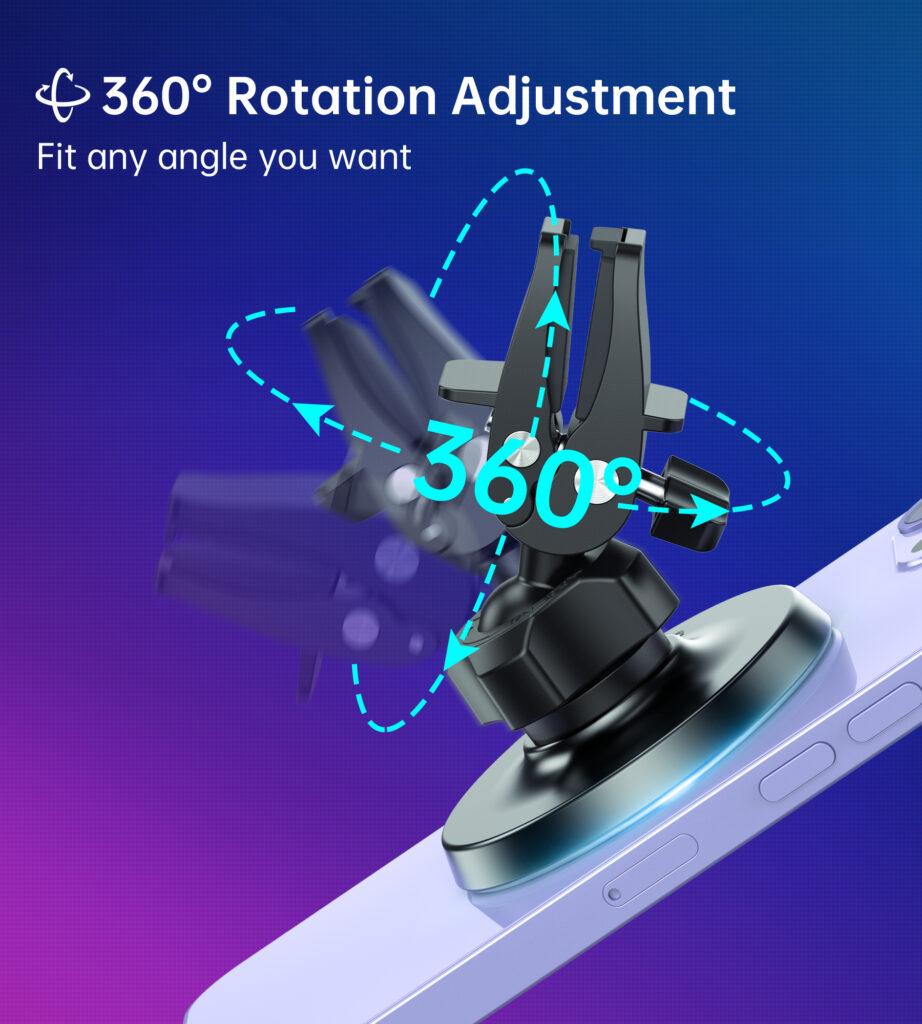 Share OEM Custom Magsafe IPhone Magnetic Car Mount Car Air Vent Phone Holder With Your Clients